Hỗ trợ kinh doanh
Chăm sóc khách hàng

0916 287 068
24-Port 100Mbps PoE Stackable Switch Cisco SF500-24P
Trang Chủ
>>
Thiết bị mạng
>>
Thiết bị mạng Cisco
>>
24-Port 100Mbps PoE Stackable Switch Cisco SF500-24P
Mã số:04210040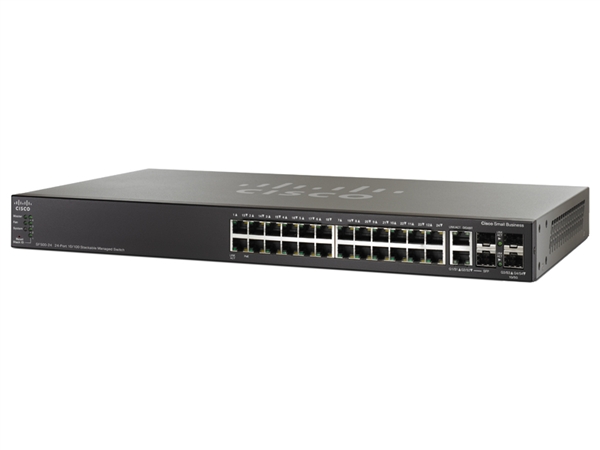 24-Port 10/100Mbps PoE Stackable Managed Switch Cisco SF500-24P
- Product ID Number: SF500-24P-K9
- 24-port 10/100Mbps PoE Stackable Managed
- Four Gigabit Ethernet ports consisting of:
Ø 2 combination ports
Ø 2 Small Form-Factor Pluggable (SFP) ports
The SF500-24P offers a solid foundation for current and future business applications. With true stacking capabilities, advanced security, quality of service, energy-saving technology (EEE), IPV6, and network features, you can take advantage of the reliability and performance you need.
Cisco SF500-24P Benefits and Features
- Easy to Deploy: The SF500-24P can be remotely managed, includes a Textview command-line interface, the Cisco Configuration Assistant, and automated deployment tools that ease setup and configuration.
- Reliability and resiliency:
o Stacking capabilities
o Dual images
o Advanced redundancy protocols
- True stacking: Cisco 500 Series switches let you to easily manage and configure multiple switches in a stack as a single unit, with a single IP address.
- Strong security: T
o Use access control lists (ACLs)
o Guest virtual LANs (VLANs)
o Encrypted management data
o IEEE 802.1X port security
o Other advanced network defense features
- Advanced IP telephony support: Cisco SF500-24P switches will auto-configure connected IP phones with the proper VLAN and quality of service (QoS) parameters to ensure properly prioritized traffic.
- Power over Ethernet Plus (PoE+): Supports PoE+ to deliver up to 30 watts per port to power PoE-enabled, network-attached devices.
- Traffic management: The Cisco SF500-24P supports static Layer 3 routing capabilities
- IPv6: The Cisco SF500-24P switches successfully completed rigorous IPv6 testing. The SF500-24P has received the USGv6 and IPv6 Gold certification.
- Power efficiency: Cisco 500 series switches utilize low-power chipsets, fanless designs, and other "green" features to reduce power consumption and enable quieter operation.
- Expandability: The SF200-24P features expansion slots.
Specifications
Product Description

Cisco Small Business SF500-24P - 24 ports - PoE - stackable - managed - rack-mountable switch

Device Type

24 Port PoE - managed - stackable switch

Form Factor

Rack-mountable

Ports

24 x 10/100 + 2 x combo Gigabit SFP + 2 x SFP

Power over Ethernet (PoE) Ports

24

Routing Protocol

Static IP routing

Compliant Standards

IEEE 802.3, IEEE 802.3u, IEEE 802.3z, IEEE 802.1D, IEEE 802.1Q, IEEE 802.3ab, IEEE 802.1p, IEEE 802.3af, IEEE 802.3x, IEEE 802.3ad (LACP), IEEE 802.1w, IEEE 802.1x, IEEE 802.1s, IEEE 802.3at, IEEE 802.3az

Features

Flow control, layer 2 switching, VLAN support, IPv6 support, Spanning Tree Protocol (STP) support, Rapid Spanning Tree Protocol (RSTP) support, Multiple Spanning Tree Protocol (MSTP) support, Access Control List (ACL) support, Quality of Service (QoS), reset button, LACP support, Energy Efficient Ethernet, Dynamic VLAN Support (GVRP)

Flash Memory

32 MB

RAM

256 MB

Status Indicators

Port transmission speed, system, link/activity

Connections

Interfaces

24 x 10Base-T/100Base-TX - RJ45 - PoE

2 x 10Base-T/100Base-TX/1000Base-T - RJ45

4 x SFP (Mini-GBIC)

Quality of Service

Priority Levels

4 hardware (8 future)

Scheduling

Strict Priority and weighted round-robin (WRR)

Class of Service

Port based; 802.1p VLAN priority based; IPv4/v6 IP precendence/ToS/DSCP based; DiffServ; classification and re-marking ACLS, Trusted QoS

Queue assignment based on differentiated services code point (DSCP) and class of service (802.1p/CoS)

Rate Limiting

Ingress policer; egress sharing adn ingress rate control; per VLAN, per port, and flow based

Power

Power Device

Power supply - internal universal

Voltage Required

AC 120/230V (50/60 Hz)

Energy Detect

Automatically turns power off/on Gigabit Ethernet RJ-45 port when detecting link down

Active mode is resumed without loss of any packets when the switch detects link up

Cable Length Detection

Adjusts the signal strength based on the cable length

Reduces the power consumption for cable shorter then 10m

Supported on Gigbit Ethernet models

EEE Compliant (802.3az)

Supports IEEE 802.3az on all Gigabit copper ports

Miscellaneous

Localization

North America

Certification

UL (UL 60950), CSA (CSA 22.2), CE mark, FCC Part 15 (CFR 47) Class A

Operating Temperature

32° to 104°F (0° to 40°C)

Storage Temperature

-4° to 158°F (-20° to 70°C)

Opertating Humidity

10% to 90%, relative, noncondensing

Storage Humidity

10% to 90%, relative, noncondensing

Dimensions

Width

17.3 in

Depth

10.1 in

Height

1.7 in

Weight

8.2 lbs
- Bảo hành: 12 tháng.

Sản phẩm liên quan
---
​