Hỗ trợ kinh doanh
Chăm sóc khách hàng

0916 287 068
Wireless Network Security Firewall Cisco RV220W
Trang Chủ
>>
Thiết bị mạng
>>
Thiết bị mạng Cisco
>>
Wireless Network Security Firewall Cisco RV220W
Mã số:04210058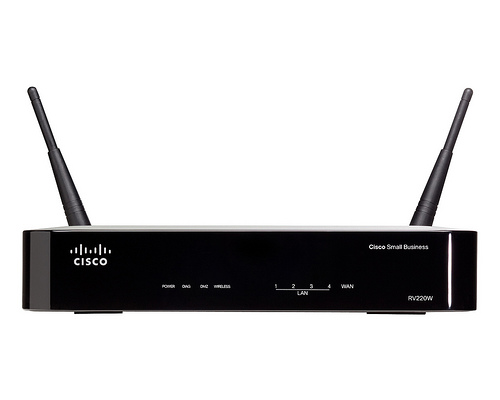 Wireless Network Security Firewall Cisco RV220W
Performance and Security for Small Offices
Get high-performance, highly secure, flexible, wired and wireless connectivity for your small office with the Cisco RV220W Wireless Network Security Firewall.
Connect easily to the Internet, to other locations, and to employees working remotely. With fast access to large files and multimedia applications, you can help your small office stay productive.
This easy-to-use wireless router features:
- High-performance Gigabit Ethernet connections, including a 4-port switch
- Built in, high-speed, selectable dual-band wireless-N access point
- IP Security (IPsec) and Secure Sockets Layer (SSL) VPN for flexible remote access
- Intuitive, browser-based device manager
- Support for Small Business QuickVPN software
- High-Performance, Highly Secure Connectivity for the Small Office
- The Cisco ® RV220W Network Security Firewall lets small offices enjoy secure, reliable, wired and wireless, broadband connectivity - to the Internet, other offices, and employees working remotely. This high-performance wireless router helps improve productivity by providing fast access to the large files and rich media applications your employees use every day.
- Designed to provide greater flexibility for highly secure, remote connections, the RV220W supports both IP Security (IPsec) and Secure Sockets Layer (SSL) VPN, often referred to as hybrid VPN. IPsec VPN enables other offices to connect just as if they were physically connected to the primary business network. SSL VPN, which allows secure connections through any web browser, is application-specific, offering a means of extending controlled access to business partners and others, without compromising critical data.
- To help further safeguard your network and data, the Cisco RV220W includes business-class security features and optional cloud-based Web filtering. Setup is simple, using a browser-based configuration utility and wizards.
- High-performance Gigabit Ethernet connections, internally and externally, plus a built-in wireless-N access point, speeds file transfers to improve productivity
- 4-port 10/100/1000 Mbps Gigabit Ethernet switch
- Selectable, dual-band wireless radio helps reduce interference to improve wireless performance
- Hybrid VPN (IPsec and SSL VPN) features enable secure access for other offices, employees working remotely, and business partners
- Proven firewall, support for separate virtual networks, and strong wireless security help protect the network and business assets
- Intuitive, browser-based device manager with setup wizards makes installation and use easy
Description

• IEEE 802.11n, 802.11g, 802.11b,

• Routing Information Protocol (RIP) v1 (RFC 1058), RIP v2 (RFC 1723)

• Dynamic Host Configuration Protocol (DHCP) server, DHCP relay agent

• Network Address Port Translation (NAPT), NAT traversal, one-to-one NAT

• Session Initiation Protocol Application Layer Gateway (SIP ALG)

Port-based RADIUS authentication (Extensible Authentication Protocol [EAP] MD5, Protected EAP [PEAP])

Microsoft Windows 2000/XP/Vista 32 and 64-bit/Windows 7; Mac OSX 10.4+

Data Encryption Standard (DES), Triple Data Encryption Standard (3DES) and Advanced Encryption Standard (AES) encryption (128, 192, 256-bit)

802.1p port-based priority on LAN port, application-based priority on WAN port

(3DES / AES)

Web browser, Simple Network Management Protocol (SNMP) version 1, 2c, 3, Bonjour, Universal Plug and Play (UPnP), Simple Network Time Protocol (SNTP)

Firmware upgradable through web browser, imported/exported configuration in text format

Wireless

Product Dimensions (W x H x D)

Supports multiple SSIDs, up to 4 separate virtual networks with separate wireless profiles

Supports SSID to VLAN mapping with wireless client isolation

Allows wireless signals to be repeated by up to 4 compatible repeaters

Power
- Bảo hành: 12 tháng.

Sản phẩm liên quan
---
​