Hỗ trợ kinh doanh
Chăm sóc khách hàng

0916 287 068
Integrated Services Routers CISCO C921-4P
Trang Chủ
>>
Thiết bị mạng
>>
Thiết bị mạng Cisco
>>
Integrated Services Routers CISCO C921-4P
Mã số:04214539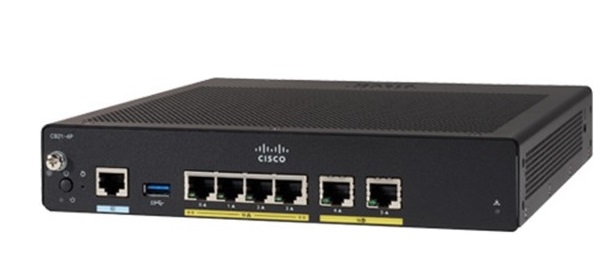 Integrated Services Routers CISCO C921-4P
- Routers CISCO C921-4P is one of the Cisco 900 Series Integrated Services Routers. The Cisco 900 Series ISRs deliver integrated security and threat defense, protecting networks from both known and new Internet vulnerabilities and attacks
- Support 2 ports Gigabit Ethernet (GE) WAN.
- Support 4-port GE LAN managed switch.
- Integrated USB 2.0.
- Maximum crypto throughput (bit-rate policed): 150 Mbps.
- Dimensions (H x W x D): 4.32 x 22.86 x 24.13 cm.
Specifications
Model
CISCO C921-4P
WAN interfaces
2 ports Gigabit Ethernet (GE)
LAN interfaces
4-port GE managed switch
Integrated USB 2.0
Yes
Maximum crypto
throughput (bit-rate
policed)
150 Mbps
IP and IP services
- Routing Information Protocol Versions 1 and 2 (RIPv1 and RIPv2)
- Generic Routing Encapsulation (GRE) and Multipoint GRE (MGRE)
- Cisco Express Forwarding
- Standard 802.1d Spanning Tree Protocol
- Layer 2 Tunneling Protocol (L2TP)
- L2TP Version 3 (L2TPv3)
- Network Address Translation (NAT)
- Dynamic Host Configuration Protocol (DHCP) server, relay, and client
- Dynamic DNS
- DNS Proxy and DNS Spoofing
- Access Control Lists (ACLs)
- IPv4 and IPv6 multicast
● Open Shortest Path First (OSPF)
● Border Gateway Protocol (BGP)
● Performance Routing (PfR)
● Enhanced Interior Gateway Routing Protocol (EIGRP)
● Virtual Route Forwarding (VRF) Lite
● Next Hop Resolution Protocol (NHRP)
● Bidirectional Forwarding Detection (BFD)
● Web Cache Communication Protocol (WCCP)
xDSL
- True Multimode VDSL2 and ADSL2+ over Annex A, B, J, and M, including traditional G.DMT and T1.413
- World-class interoperability with industry-standard DSL Access Multiplexer (DSLAM) chipsets
- Highest field reliability with Impulse Noise Protection (INP) over Repetitive Electrical Impulse Noise (REIN) and single isolated impulse noise (SHINE), extended INP delay, G.INP, physical layer retransmission, Seamless Rate Adaptation (SRA), and Bitswap
- VDSL2 Persistent Storage Device (PSD) profiles up to 17a/b with support for spectral shaping
- VDSL2 vectoring to offer blazing fiber speeds over copper
- Remote management with TR069 and CWMP
- Investment protection with Gigabit Ethernet
Switch features
- Auto Media Device In/Media Device Cross Over (MDI-MDX)
- 25 802.1Q VLANs
- MAC filtering
- Switched Port Analyzer (SPAN)
- Storm control
- Smart ports
- Secure MAC address
- Internet Group Management Protocol Version 3 (IGMPv3) snooping
- 802.1X
Security features
Secure connectivity:
- Secure Sockets Layer (SSL) VPN for secure remote access
- Hardware-accelerated DES, 3DES, AES 128, AES 192, and AES 256
- Public-Key-Infrastructure (PKI) support
- 50 IPsec tunnels
- Cisco Easy VPN client and server
- NAT transparency
- Dynamic Multipoint VPN (DMVPN)
- Tunnel-less Group Encrypted Transport VPN (GET VPN)
- VRF-aware IPsec
- IPsec over IPv6
- Adaptive control technology
- Session Initiation Protocol (SIP) application-layer gateway
- Cisco IOS Firewall:
+ Zone-based policy firewall
+ VRF-aware stateful inspection routing firewall
+ Stateful inspection transparent firewall
- Advanced application inspection and control
- HTTPS, FTP, and Telnet Authentication Proxy
- Dynamic and static port security
- Firewall stateful failover
- VRF-aware firewall
- Cisco IOS Software blocked and allowed lists
- Control plane policing
- Flexible packet matching
- Network foundation protection
Quality of Service (QoS)
- Low-Latency Queuing (LLQ)
- Weighted Fair Queuing (WFQ)
- Class-Based WFQ (CBWFQ), Class-Based Traffic Shaping (CBTS), Class-Based Traffic Policing (CBTP)
- Policy-Based Routing (PBR)
- Class-Based QoS MIB
- Class of Service (CoS)-to-Differentiated Services Code Point (DSCP) mapping
- Class-Based Weighted Random Early Detection (CBWRED)
- Network-Based Application Recognition (NBAR)
- Link Fragmentation and Interleaving (LFI)
- Resource Reservation Protocol (RSVP)
- Real-Time Transport Protocol (RTP) header compression (cRTP)
- Differentiated Services (DiffServ)
- QoS preclassify and prefragmentation
- Hierarchical QoS (HQoS)
Management
- Cisco Configuration Professional
'- Cisco Configuration Express
- Cisco Configuration Engine support
- Cisco AutoInstall
- Cisco IP Service-Level Agreement (IP SLA)
- Cisco IOS Embedded Event Manager (EEM)
- Cisco Security Manager
- Telnet, Simple Network Management Protocol Version 3 (SNMPv3), Secure Shell (SSH) Protocol, Command-Line Interface (CLI), and HTTP management
- RADIUS and TACACS+
- Cisco Next Generation Plug-and-Play (NG PnP) Protocol
High availability
- Virtual Router Redundancy Protocol (VRRP) (RFC 2338)
- HSRP
- MHSRP
Metro Ethernet
- Ethernet OA&M
- Ethernet Local Management Interface (E-LMI)
- IP SLA for Ethernet
IPv6
- IPv6 addressing architecture
- IPv6 name resolution
- IPv6 statistics
- IPv6 translation: Transport packets between IPv6-only and IPv4-only endpoints (NAT-Protocol Translation)
- Internet Control Message Protocol Version 6 (ICMPv6)
- IPv6 DHCP
- OSPFv3
- BGP4+
- IPv6 Path Maximum Transmission Unit (PMTU)
- IPv6 neighbor discovery
- IPv6 stateless address autoconfiguration (SLAAC)
- IPv6 multicast routing
Application visibility and control
- NBAR2
- Flexible NetFlow (FNF)
- Performance Agent
Number of recommended users
50
Default and maximum DRAM
Default 1 GB
Default and maximum flash memory
2 GB on all Cisco 900 Series ISR models; not upgradable
WAN
Refer to Table 2, 3 and 4 for details
LAN switch
Refer to Table 2 for details
Separate console ports
RJ-45
USB 2.0
One USB 2.0 Type A port
Dimensions (H x W x D)
4.32 x 22.86 x 24.13 cm
Weight
2.65 lb (1.20 kg) maximum
LEDs
- 1x green per Ethernet
- 2x green DSL - CD+Data
- 1x bicolor LED LTE RSSI
- 1x green LED LTE SIM/Activity
- VPN
- System OK
Power supply
AC input voltage: Universal 100 to 240 VAC
Frequency: 50 to 60 Hz
Internal power supply
External power adapter: 30 W
- Bảo hành: 12 tháng.

Sản phẩm liên quan
---
​