Hỗ trợ kinh doanh
Chăm sóc khách hàng

0916 287 068
150Mbps 802.11n Wireless Portable AP/Router PLANET WNRT-300
Trang Chủ
>>
Thiết bị mạng
>>
Thiết bị mạng PLANET
>>
150Mbps 802.11n Wireless Portable AP/Router PLANET WNRT-300
Mã số:04020253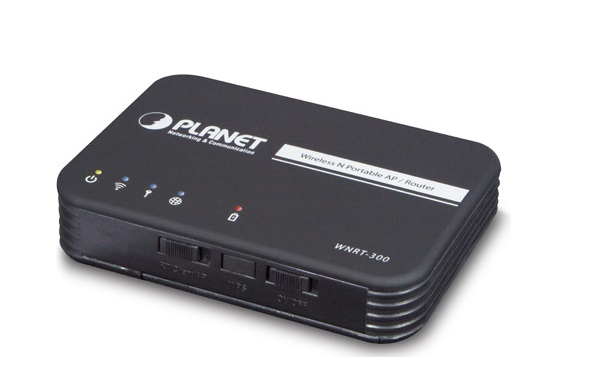 150Mbps 802.11n Wireless Portable AP/Router PLANET WNRT-300
Industrial Compliant Wireless LAN & LAN
- Compliant with IEEE 802.11n wireless technology capable of up to 150Mbps data rate.
- Backward compatible with 802.11b/g standard.
- Equipped with one 10/100Mbps RJ-45 Ethernet port for LAN/WAN, Auto MDI/MDI-X supported.
Wireless Network Range Extender
- Multiple Wireless Modes: AP, WDS, Repeater, Universal Repeater, Client.
- Supports WMM (Wi-Fi Multimedia), Wireless QoS.
- Supports IAPP (Inter Access Point Protocol), Wireless Roaming.
Fixed-network Broadband Router
- Supported Internet types: Dynamic IP/Static IP/PPPoE/L2TP/PPTP.
- Supports Static & Dynamic (RIP1 and 2) Routing.
- Supports IP/MAC-Based Bandwidth Control.
- Supports 802.1d STP & IGMP Proxy.
Secure Network Connection
- Advanced security: 64/128-bit WEP, WPA-Enterprise/ WPA2-Enterprise and WPA-PSK/WPA2-PSK with TKIP/AES Encryption, 802.1x Authentication.
- Built-in NAT firewall features with Port/IP/MAC/URL Filtering, and DoS protection.
- Supports 802.1Q VLAN.
Advanced Networking Function for Specific Application
- Supports multiple sessions IPSec, L2TP, PPTP, and IPv6 VPN pass-through.
- Supports Port Forwarding, DMZ, UPnP and Dynamic DNS for various networking applications.
- Supports DHCP Server.
Easy to Install & Management
- Web-Based UI and setup Wizard for easy configuration.
- System status monitoring includes DHCP Client and System Log.
Flexible Application & Business-oriented design
- Portable and Pocket-sized design for true mobility.
- Hardware switchable operation modes: Router/AP/Client.
- One-touch Wi-Fi Protected Setup (WPS).
- Built-in rechargeable Li-ion battery.
Specifications
Hardware Specification
Interface
LAN/WAN : 1 x 10/100Mbps Auto MDI/MDI-X RJ45 port
Antenna
Gain: 1 x Internal 2dBi Antenna
Orientation: Omni-directional
Button/Switch
Front panel (from left to right):
- Mode Selection Switch (Router/Client/AP)
- WPS Button
- Power On / Off Switch
Rear panel:
- Reset button
LED Indicators
PWR, WLAN, WAN/LAN, WPS, CHG
Material
Plastic
Dimension (W x D x H)
88x62x18 mm
Weight
With battery: 80g
Without battery: 58g
Battery
Built-in Rechargeable Li-ion Battery (3.7V, 1050mAh)
Power Requirement
DC 5V , 0.4A maximum, connected through mini-USB connector
Power Adapter
AC Input: 100~240V AC (50/60Hz)
DC Output: 5V with max. 1A current
Standard Accessory
Power Adapter x 1, USB Cable x 1, Ethernet Cable x 1, Li-ion Battery x 1, CD-ROM x 1, Quick Guide x 1
Wireless Interface Specification
Standard
Compliance with IEEE 802.11b/g/n
Frequency Band
2.4 ~ 2.4835GHz
Extend Frequency
DSSS
Modulation Type
DBPSK, DQPSK, QPSK, CCK and OFDM (BPSK/QPSK/16QAM/64-QAM)
Data Transmission Rates
11n: Up to 150Mbps (Dynamic)
11g: Up to 54Mbps (Dynamic)
11b: Up to 11Mbps (Dynamic)
Transmission Distance
Indoor up to 100m
Outdoor up to 300m (Depends on the environment conditions)
Channel
America/ FCC: 2.412 ~ 2.462GHz (11 Channels)
Europe/ ETSI: 2.412 ~ 2.472GHz (13 Channels)
Japan/ TELEC: 2.412 ~ 2.484GHz (14 Channels)
Max. RF Power
20 dBm (EIRP)
Receive Sensitivity
135M: -68dBm@10% PER
54M: -68dBm@10% PER
11M: -85dBm@8% PER
Software Features
Operation Mode
AP/Router/Client (Switchable by hardware)
Wireless Mode
AP, WDS, Repeater (WDS+AP), Universal Repeater (AP + Client)
Encryption Security
WEP (64/128-bit) encryption security
WPA-Enterprise / WPA2-Enterprise (TKIP/AES)
WPA-Personal / WPA2-Personal (TKIP/AES)
802.1x Authentication
Wireless Security
Provides wireless LAN ACL (Access Control List) filtering
Wireless MAC address filtering
Supports WPS (Wi-Fi Protected Setup)
Multiple SSID up to 5 wireless groups, each mapped to a separate 802.1p/q tagged VLAN
Enable / Disable SSID Broadcast
Wireless Advanced
WMM (Wi-Fi Multimedia): 802.11e Wireless QoS
IAPP (Inter Access Point Protocol): 802.11f Wireless Roaming
Provides Wireless Statistics
Internet Connection Type
Shares data and Internet access by supporting the following types of internet access:
 - PPPoE
 - Dynamic IP
 - Static IP
 - PPTP
 - L2TP
Firewall
NAT firewall with SPI (Stateful Packet Inspection)
Built-in NAT server supporting Port Forwarding, and DMZ
Built-in firewall with IP address/ MAC address/ Port/ URL filtering
Supports ICMP-FLOOD, UDP-FLOOD, TCP-SYN-FLOOD filter, and DoS protection
Supports 802.1Q VLAN up to 4
Routing Protocol
Static / Dynamic (RIP1 and 2) Routing
VPN Pass-through
PPTP, L2TP, IPSec, IPv6
LAN
Built-in DHCP server supporting static IP address distributing
Supports UPnP, Dynamic DNS
Supports IGMP Proxy
Supports 802.1d STP (Spanning Tree)
IP / MAC-based Bandwidth Control
System Management
Web-Based (HTTP) management interface
SNTP time synchronize
Easy firmware upgrade
System Log supports Remote Log
Standards Conformance
IEEE Standards
IEEE 802.11n (1T1R, up to 150Mbps)
IEEE 802.11g
IEEE 802.11b
IEEE 802.11i
IEEE 802.3 10Base-T
IEEE 802.3u 100Base-TX
IEEE 802.3x Flow Control
Other Protocols and Standards
CSMA/CA, CSMA/CD, TCP/IP, DHCP, ICMP, NAT, PPPoE, SNTP
Environment
Temperature
Operating: 0 ~ 40 Degree C
Storage: -40 ~ 70 Degree C
Humidity
Operating: 10 ~ 90% (Non-Condensing)
Storage: 5 ~ 90% (Non-Condensing)
- Bảo hành: 12 tháng.
Giá:
850.000 VND
(Đã bao gồm VAT)

Sản phẩm liên quan
---
​