Hỗ trợ kinh doanh
Chăm sóc khách hàng

0916 287 068
Wireless-N Gigabit PoE Access Point D-Link DAP-2330/EAUPC
Trang Chủ
>>
Thiết bị mạng
>>
Thiết bị mạng D-Link
>>
Wireless-N Gigabit PoE Access Point D-Link DAP-2330/EAUPC
Mã số:04050313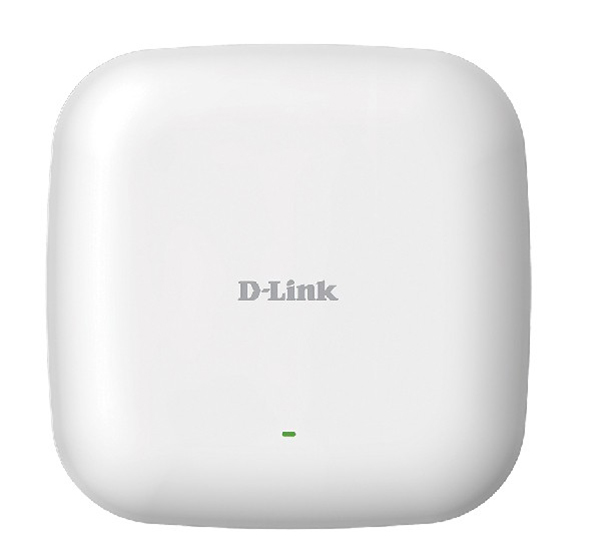 Wireless-N Gigabit PoE Access Point D-Link DAP-2330/EAUPC
-The DAP-2330/EAUPC is an 802.11n ceiling/wall mount Gigabit PoE Access Point, ideal for wireless networks in high traffic areas such as airports, coffee shops, shopping centers, sporting venues, hotels, and campus deployments. At transfer rates of up to 300Mbps in the 2.4GHz frequency range, users are able to connect with legacy 802.11g adapters as well as the latest 802.11n adapters to enjoy faster downloads and instant communication1.
Versatile Access Point
-The DAP-2330/EAUPC allows network administrators to deploy a highly manageable and extremely robust 802.11n wireless network.
-It has two internal 3dBi antennas, a security lock, and uses a low-profile, unobtrusive white housing, which blends in with most interior office or school décor.
-2 A Gigabit LAN port provides ample uplink bandwidth for even the most demanding wireless applications.
Easy to Install
-The DAP-2330/EAUPC ships with a mounting bracket, enabling easy installation on any wall or ceiling. It also includes a crossbar adapter clip for drop ceilings.
-This high-speed access point also has integrated 802.3af Power over Ethernet (PoE), simplifying installation in areas where power outlets are not readily accessible.
Security
-To help maintain a secure wireless network, the DAP-2330/EAUPC supports both Personal and Enterprise versions of WPA and WPA2 (802.11i), with support for RADIUS server backend and a built-in internal RADIUS server allowing users to create their accounts within the device itself. This access point also includes MAC address filtering, wireless LAN segmentation, SSID broadcast disable, rogue AP detection, and wireless broadcast scheduling to protect the wireless network.
-The DAP-2330/EAUPC includes support for up to eight VLANs for implementing multiple SSIDs to further help segment users on the network. It also includes a wireless client isolation mechanism, which limits direct client-to-client communication. Additionally, the DAP-2330/EAUPC supports Network Access Protection (NAP), which allows network administrators to define multiple levels of network access based on individual client's need.
Multiple Operation Modes
-To meet the unique needs of different business environments, the DAP-2330 can be configured to optimize network performance based on any one of its multiple operation modes: Access Point, Wireless Distribution System (WDS) with Access Point, WDS/Bridge, and Wireless Client. The DAP-2330/EAUPC also supports Auto RF Management, which avoids RF interference and optimizes the output power performance.
Network Management
-Network administrators have multiple options for managing the DAP-2330/EAUPC, including web (HTTP), Secure Sockets Layer (SSL, which provides for a secure connection to the Internet), Secure Shell (SSH, which provides for a secure channel between local and remote computers), and Telnet. The DAP-2330 has a wireless scheduler feature, which turns off wireless functionality when it isn't needed, saving power.
Captive Portal
-The DAP-2330 has built-in Captive Portal, which can be used to force authentication, enable billing functions, and display terms of use for a wireless network.
Features
-High-performance Connectivity.
-IEEE 802.11n Wireless.
-Up to 300Mbps.
-Gigabit LAN port.
Trusted Security Features
-WPA/WPA2 – Enterprise/Personal.
-WPA2 – PSK/AES over WDS.
-VLAN tagging - up to 8 VLANs.
-MAC address filtering.
-Network Access Protection (NAP).
-ARP spoofing prevention.
-WLAN partition.
Easy to Install
-Supports 802.3af Power over Ethernet.
-Wall/ceiling mounting bracket included.
Technical Specifications
General
Device Interfaces
802.11 b/g/n wireless1
1 Gigabit LAN Port (supports 802.3af PoE)
LED
Power/Status
Standards
IEEE 802.11g/n1
IEEE 802.3u/ab/af
Wireless Frequency Range
2.4 GHz band: 2.4 GHz to 2.4835 GHz
Antennas
Two internal 3 dBi for 2.4 GHz
Maximum Output Power
26 dbm for 2.4GHz
Functionality
Security
WPA-Personal
WPA-Enterprise
WPA2-Personal
WPA2-Enterprise
WEP 64/128-bit encryption
SSID broadcast disable
MAC address access control
Network Access Protection (NAP)
Internal RADIUS server
Network Management
Telnet
Secure Telnet (SSH)
HTTP
Secure HTTP (HTTPS)
Traffic control
SNMP
AP Array
Physical and Environmental
Dimensions
6.69 x 6.69 x 1.1 inches (170 x 170 x 28 mm)
Weight
11.14 oz (316 grams) with antennas
Operating Voltage
12 V DC +/- 10%, or 802.3af PoE
Maximum Power Consumption
8 Watts
Temperature
Operating: 32 to 104 °F (0 to 40 °C)
Storage: -4 to 149 °F (-20 to 65 °C)
Humidity
Operating: 10% to 90% non-condensing
Storage: 5% to 95% non-condensing
Certifications
FCC
IC
CE
Wi-Fi® Certified
-Bảo hành 24 tháng.
Giá:
3.144.000 VND
(Đã bao gồm VAT)

Sản phẩm liên quan
---
​