Hỗ trợ kinh doanh
Chăm sóc khách hàng

0916 287 068
8-Port Layer 2 Lite EasySmart Gigabit Switches D-Link DGS-1100-08/RS
Trang Chủ
>>
Thiết bị mạng
>>
Thiết bị mạng D-Link
>>
8-Port Layer 2 Lite EasySmart Gigabit Switches D-Link DGS-1100-08/RS
Mã số:04059710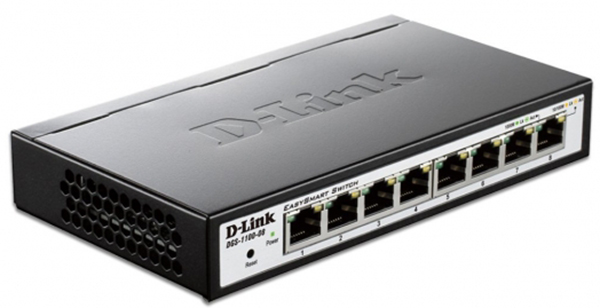 8-Port Layer 2 Lite EasySmart Gigabit Switches D-Link DGS-1100-08/RS
-8-port UTP 10/100/1000Mbps, EU 2-round pin Power Adapter (H/W: B1, Desktop).
-The DGS-1100-08/RS provide an affordable solution for businesses of all sizes that require simple network management.
D-Link Green/Power Saving Performance
-Compliant with IEEE 802.3az Energy Efficient Ethernet (EEE), these switches consume less energy by cutting down on power consumption when port utilization is low.
-By deploying EEE devices, users can cut operating costs and reduce necessary cooling equipment, helping small and medium-sized businesses stay within their budgets.
-The DGS-1100-08/RS switches also feature D-Link Green Technology that helps save energy automatically.
-The switches monitor the link status of every port and reduce power consumption on the interface when there is no link or no network traffic detected.
Easy to deployment
-The DGS-1100-08/RS switches support an intuitive client-based utility (D-Link Network Assistant Utility) and a web-based management interface.
-The client-based utility discovers all D-Link Smart Switches within the same Layer 2 network segment, making initial setup quick and easy.
-This allows extensive switch configuration and basic administration of discovered devices, including password changes and firmware upgrades.
-The web-based management interface provides a user-friendly way for network administrators to manage the switch down to the port level.
-The interface can be accessed from a web browser, allowing the switch to be controlled from any networkconnected PC.
Surveillance VLAN and Bandwidth Control
-The DGS-1100-08/RS switches support Surveillance VLAN for IP surveillance deployments.
-This gives video traffic a dedicated VLAN and higher priority through the switch, separating surveillance traffic from the rest of the network.
-This also ensures security, and guarantees the quality of the video traffic, sparing businesses the added cost of dedicated surveillance networking hardware.
-Bandwidth Control can reserve bandwidth on a per port basis for important functions that require larger bandwidth or might have high priority.
Advanced Features
-The DGS-1100-08/RS switches are equipped with advanced security features such as Static MAC, Storm Control, and IGMP Snooping.
-Static MAC allows users to create a MAC whitelist for specific ports, helping administrators limit network access to authorized devices only.
-Storm Control monitors broadcast, multicast, or unknown unicast traffic and will start blocking or discarding packets which could flood the network when the defined threshold is exceeded.
-IGMP Snooping is able to reduce the loading of L3 multicast routers and save bandwidth in network throughput.
Easy Troubleshooting
-The DGS-1100-08/RS switches feature Loopback Detection and Cable Diagnostics to help network administrators find and solve network problems quickly and easily.
-Loopback Detection is used to detect loops created by a specific port and automatically shuts down the affected port.
-Cable Diagnostics helps network administrators quickly examine the quality of the copper cables, recognize the cable type, and detect cable errors.
Technical Specifications
Number of Ports
8 10/100/1000 Mbps
Port Functions
IEEE 802.3 compliant
IEEE 802.3u compliant
IEEE 802.3ab compliance
IEEE 802.3az compliant
Support manual/ auto MDI/ MDIX configuration
Auto-negotiation
Support Half/Full-Duplex operation
IEEE 802.3az compliant
Per-port 6 kV surge protection2
Auto-negotiation
Switching Capacity
16 Gbps
Maximum Forwarding Rate
11.9 Mpps
MAC Address Table Size
8K Entries
Packet Buffer
2 Mbits
Flash Memory
2 Mbyte
Power (per device)
Yes
Link/ Activity/ Speed (per port)
Yes
Power Input
100 to 240 VAC 50 to 60 Hz External Power Adapter
Power Consumption
4.89 watts
MTBF
503,585 hours
EMI
FCC Class A, CE Class A, VCCI Class A, C-Tick
Safety
CUL, CE LVD
Dimensions
171 x 98 x 28 mm
Weight
0.42 kg
-Bảo hành: 36 tháng.
Giá:
1.260.000 VND
(Đã bao gồm VAT)

Sản phẩm liên quan
---
​