Hỗ trợ kinh doanh
Chăm sóc khách hàng

0916 287 068
4-Port Gigabit VPN Router Cisco RV042G-K9-EU
Trang Chủ
>>
Thiết bị mạng
>>
ROUTER CISCO
>>
4-Port Gigabit VPN Router Cisco RV042G-K9-EU
Mã số:04130458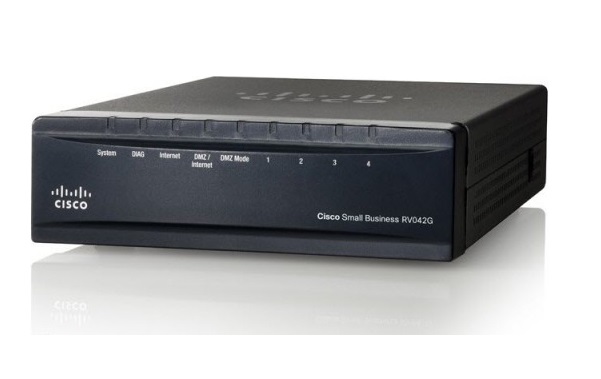 4-Port Gigabit VPN Router Cisco RV042G-K9-EU
- Dual Gigabit Ethernet WAN ports for load balancing and business continuity.
- Built-in 4-port Gigabit Ethernet switch.
- Strong security: Proven stateful packet inspection (SPI) firewall and hardware encryption.
- High capacity, high-performance, IP Security (IPsec) VPN capabilities.
- Intuitive, browser-based device manager and setup wizards.
Specifications
Specifications
Dual WAN
Configurable for Smartlink backup or load balancing
Standards
802.3, 802.3u
IPv4 (RFC 791)
IPv6 (RFC 2460)
Network protocols
Dynamic Host Configuration Protocol (DHCP) server, DHCP client, DHCP relay agent
Static IP
Point-to-Point Protocol over Ethernet (PPPoE)
Point-to-Point Tunneling Protocol (PPTP)
Transparent bridge
DNS relay, Dynamic DNS (DynDNS, 3322)
IPv6
Routing protocols
Static
Routing Information Protocol (RIP) v1, v2, and RIP for IPv6 (RIPng)
Network Address Translation (NAT)
Port Address Translation (PAT)
Network Address Port Translation (NAPT), NAT traversal, one-to-one NAT
Protocol binding
Protocols can be bound to a specific WAN port for load balancing
Network edge (DMZ)
DMZ port, DMZ host
Security
Firewall
SPI, denial of service (DoS), ping of death, SYN flood, land attack, IP spoofing, email alert for hacker attack
Access rules
Up to 50 entries
Port forwarding
Up to 30 entries
Port triggering
Up to 30 entries
Blocking
Java, cookies, ActiveX, HTTP proxy
Content filtering
Static URL blocking or keyword blocking
Secure management
HTTPS, username/password, password complexity
VLAN
Port-based VLANs
VPN
Ipsec
50 IPsec site-to-site tunnels for branch office connectivity
QuickVPN
50 QuickVPN tunnels for remote client access
PPTP
5 PPTP tunnels for remote access
Encryption
Data Encryption Standard (DES), Triple Data Encryption Standard (3DES), and Advanced Encryption Standard (AES) encryption; AES-128, AES-192, AES-256
Authentication
MD5/SHA1 authentication
IPsec NAT traversal
Supported for gateway-to-gateway and client-to-gateway tunnels
VPN pass-through
PPTP, Layer 2 Tunneling Protocol (L2TP), Ipsec
Advanced VPN
Dead peer detection (DPD), Internet Key Exchange (IKE), split DNS, VPN backup
Quality of Service (QoS)
Prioritization types
Application-based priority on WAN port
Service-based QoS
Supports rate control or priority
Rate control
Upstream/downstream bandwidth can be configured per service
Priority
Each service can be mapped to one of 3 priority levels
Performance
NAT throughput
800 Mbps
IPsec VPN throughput
75 Mbps
Management
Management protocols
Web browser, Simple Network Management Protocol (SNMP) v1 and v2c, Bonjour
Event logging
Syslog, email alerts, VPN tunnel status monitor
Upgradability
Firmware upgradable through web browser, imported/exported configuration file
Migration
Migration utility available to convert the RV042 config file to a RV042G config file
System Specifications
Product dimensions (W x H x D)
5.12 in. x 1.52 in. x 7.87 in.
130 mm x 38.5 mm x 200 mm
Ports
Four 10/100/1000 RJ-45 ports, one 10/100/1000 RJ-45 Internet port, one 10/100/1000 RJ-45 DMZ/Internet port
Power supply
12V-1A
Operating temperature
0° to 40°C (32° to 104°F)
Storage temperature
0° to 70°C (32° to 158°F)
Operating humidity
10% to 85% noncondensing
Storage humidity
5% to 90% noncondensing
- Bảo hành: 12 tháng.

Sản phẩm liên quan
---
​