Hỗ trợ kinh doanh
Hỗ trợ bảo hành kỹ thuật

(028) 73 00 20 49
Chăm sóc khách hàng

0916 287 068
48-Port 10/100/1000BASE-T+4-Port GE SFP Switches Ruijie RG-S2952G-E V3
Trang Chủ
>>
Thiết bị mạng
>>
Thiết bị mạng RUIJIE
>>
48-Port 10/100/1000BASE-T+4-Port GE SFP Switches Ruijie RG-S2952G-E V3
Mã số:04627964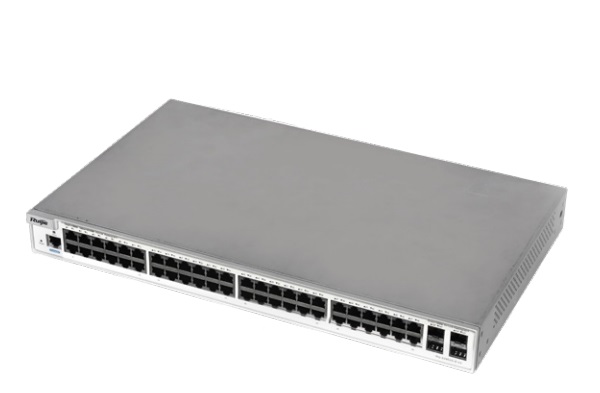 48-Port 10/100/1000BASE-T+4-Port GE SFP Switches Ruijie RG-S2952G-E V3
- Hỗ trợ 48 cổng 10/100/1000BASE-T.
- Hỗ trợ 4 cổng GE SFP ports (Non-Combo).
- Tốc độ chuyển mạch: Lên đến 256Gbps.
- Tốc độ chuyển gói tin: Lên đến 132Mpps.
- Dễ dàng quản lý và cấu hình qua Ruijie Cloud.
- Tích hợp Web Management.
- Hỗ trợ IEEE802.1Q/MAC VLAN/Private VLAN/Protocol VLAN/Voice VLAN.
- Nguồn điện AC: 100~240V, 50/60Hz.
- Nhiệt độ hoạt động: 0°C~50°C.
- Kích thước (W x D x H): 440 × 260 × 43.6 mm.
Đặc tính kỹ thuật
Model
RG-S2952G-E V3
Ports
48 10/100/1000BASE-T ports
4 1G SFP ports (non-combo)
Fan Slots
Fixed
Management Ports
1 console port
Switching Capacity
Up to 256Gbps
Packet Forwarding Rate
Up to 132Mpps
Port Buffer
1.5MB
ARP Table
1000
MAC Address
Up to 16K
Routing Entries
500
IP Host Entries (IPv4/IPv6)
500 (IPv4/IPv6)
ACL Entries
Up to 1,500
ACL
Standard/Extended/Expert ACL, Extended MAC ACL, ACL 80, IPv6 ACL, ACL logging, ACL counter, ACL remark, Global ACL, ACL redirect
QoS
802.1p/DSCP/TOS traffic classification; Multiple queue scheduling mechanisms, such as SP, WRR, DRR, SP+WFQ, SP+WRR, SP+DRR; Input port-based speed limit; Port-based traffic recognition; Each port supports 8 queue priorities
VLAN
4K 802.1q VLANs, Port-based VLAN, MAC-based VLAN, Protocol-based VLAN, Private VLAN, Voice VLAN, QinQ, IP subnet-based VLAN, GVRP
QinQ
Basic QinQ, Flexible QinQ, 1:1 VLAN switching
Link Aggregation
AP, LACP, Flow balance
Port Mirroring
Many-to-one mirroring, One-to-Many mirroring, Flow-based mirroring, Over devices mirroring, VLAN-based mirroring, VLAN-filtering mirroring, AP-port mirroring, RSPAN, ERSPAN
Spanning Tree Protocols
IEEE802.1d STP, IEEE802.1w RSTP, Standard 802.1s MSTP, Port fast, BPDU filter, BPDU guard, TC guard, TC filter, TC protection, LOOP guard, ROOT guard
DHCP
DHCP server, DHCP client, DHCP snooping, DHCP relay, IPv6 DHCP snooping, IPv6 DHCP client, IPv6 DHCP relay
Multiple Spanning Tree Protocol (MSTP) Instances
64
Maximum Aggregation Port (AP)
Up to 128
Multicast
IGMP v1/v2/v3 snooping, IGMP SGVL/IVGL, IGMP filter, IGMP fast leave, MLD snooping v1/v2
SDN
OpenFlow 1.0, future support OpenFlow 1.3
EEE Format
Support IEEE 802.3az standard
G.8032
Support
L2 Features
MAC, EEE, ARP, VLAN, Basic QinQ, Felix QinQ, Link aggregation, Mirroring, STP, RSTP, MSTP, Broadcast storm control, IGMP v1/v2/v3 snooping, IGMP SGVL/IVGL, IGMP filter, IGMP fast leave, DHCP, Jumbo frame, RLDP, LLDP, REUP, G.8032 ERPS, Layer 2 protocol tunnel
Layer 2 Protocols
IEEE802.3, IEEE802.3u, IEEE802.3z, IEEE802.3x, IEEE802.3ad, IEEE802.1p, IEEE802.1x, IEEE802.3ab, IEEE802.1Q (GVRP), IEEE802.1d, IEEE802.1w, IEEE802.1s
Security
Binding of the IP address, MAC address, and port address; Binding of the IPv6, MAC address, and port address; Filter illegal MAC addresses; Port-based and MAC-based 802.1x; MAB; Portal and Portal 2.0 authentication; ARP-check; DAI; Restriction on the rate of ARP packets; Gateway anti-ARP spoofing; Broadcast suppression; Hierarchical management by administrators and password protection; RADIUS and TACACS+; AAA security authentication (IPv4/IPv6) in device login management; SSH and SSH V2.0; BPDU guard; IP source guard; CPP, NFPP; Port protection
Layer 3 Features
IPv4 static routing, IPv6 static routing, RIP, RIPng, OSPFv2/v3, ARP proxy, Neighbor Discovery, VRRP
Layer 3 Protocols (IPv4)
Static routing, RIP, RIPng, OSPFv2/v3
IPv4 Features
Ping, Traceroute
IPv6 Features
0-64 any length mask, ICMPv6, Neighbor Discovery, Manually configure local address, Automatically create local address, IPv6 Ping, IPv6 Tracert, IPv6 extender option head,VRRP v3
Basic IPv6 Protocols
IPv6 addressing, Neighbor Discovery (ND), IPv6 ACL, ICMPv6, IPv6 Ping, IPv6 Tracert
IPv6 Routing Protocols
Static routing, RIPng, OSPFv3
VSU (Virtual Switch Unit)
Support (up to 9 stack members, to ensure the effectiveness of the use, 4 members are recommended)
Zero Configuration
CWMP(TR069)
Reliability
RAS
VSU (virtualization technology for virtualizing multiple devices into 1); GR for RIP/OSPF;
ERPS (G.8032); REUP dual-link fast switching technology; RLDP (Rapid Link Detection Protocol)
Manageability
SNMPv1/v2c/v3, CLI (Telnet/Console), RMON (1, 2, 3, 9), SSH, Syslog/Debug, RSPAN/ERSPAN, NTP/SNTP, FTP, TFTP, Web, SFLOW, support cable detection and port sleep mode
Smart Temperature Control
Auto fan speed adjustment; Fan malfunction alerts; Fan status check
Other Protocols
FTP, TFTP, DNS client, DNS static
Dimensions (W x D x H)
440 × 260 × 43.6 mm
Rack Height
1RU
Weight
≤4kg
MTBF

372690 hours
Lightning Protection
6KV
Power Supply
AC input:
Rated voltage range: 100V to 240V AC
Maximum voltage range: 90V to 264V AC
Frequency: 50 to 60Hz
HVDC input:
Input voltage range: 192V to 290V DC
Power Consumption
≤40W
Temperature
Operating temperature: 0°C to 50°C
Storage temperature: -40°C to 70°C
Humidity
Operating humidity: 10% to 90%RH
Storage humidity: 5% to 95%RH
Operating Altitude
-500m to 5,000m
Safety Standards
IEC 60950-1, EN60950-1
Emission Standards
EN 300 386, EN 55032, EN 61000-3-2, EN 61000-3-3, EN 55024, EN 61000-4-2, EN 61000-4-3, EN 61000-4-4, EN 61000-4-5, EN 61000-4-6, EN 61000-4-8, EN 61000-4-11
- Bảo hành: 3 năm.
Giá:
Vui lòng gọi
(Đã bao gồm VAT)

Sản phẩm liên quan
---
​